Who is EZ Street?
Fueled by a shared desire to play a variety of music with like-minded musicians, Joe Mangione, Joe Morrow John Speer, and Carol & Kevin Tonelli formed EZ Street in the Spring of 2017.    Flash forward to the Fall of 2020, mid-pandemic, Joe Morrow and his wife decided to leave Sonoma County behind for Colorado.  Replace a guitar player in the middle of a pandemic?  SURE, that will be EZ....right? !  
Enter Steve De Vincenzi, transplanted to Calistoga earlier in the year from the South Bay Area.  It was clear from the first meeting that Steve was not only a GREAT player but also fit right in with the goofy, sometimes irreverent humor that is balanced with great musical work ethic  Turns out it wasn't such a bad thing to have  few months with no gigs to get Steve up to speed (which didn't take long) and pull in some new tunes. 
With influences from The Beatles to The Eagles and beyond, EZ Street loves bringing Classic Rock, Blues, R&B, Country & more  to audiences for their dancing & listening pleasure.
EZ Street continues to grow their catalog of material by looking for tunes that not only speak to them as a band, but songs that will get their audience up and moving or grab them enough to simply make them stop and listen.  
With Joe Mangione & Carol Tonelli taking on most of the lead vocals for the band, EZ Street's sound ranges from Soft & Sultry to Rough and Rockin'.
Join our mailing list or, better yet, contact us to book your gig today!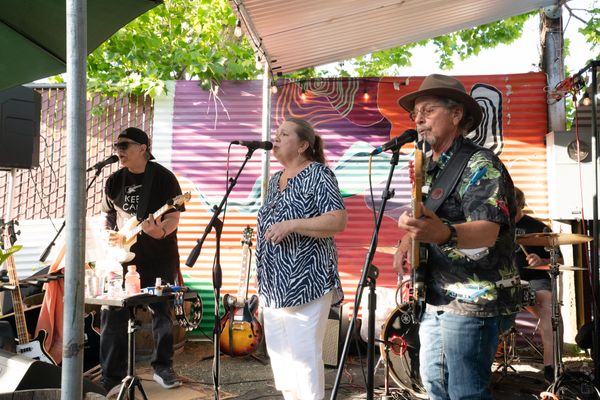 Joe Mangione - Vocals - Rhythm Guitar
Joe began playing guitar after seeing The Beatles on the Ed Sullivan Show.    That experience prompted him to start a band and he hasn't stopped playing since, and doesn't plan on stopping...ever.  Joe loves making music with his friends and says, "Rock and Roll is in my Soul".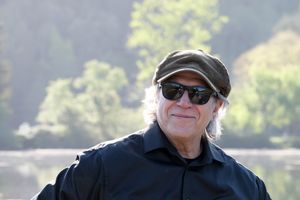 John Speer - Bass Guitar - Vocals
JOhn Started playing Bass lines on his Brother's guitar when he was a kid, knowing that he wanted to play Bass Guitar from the time he was about 10.  After buying his first Bass and amp, John started playing and jamming with his friends and that's still true today.  John has played and recorded both covers and originals with local musicians.  "I love to play, it warms the spirit.  Peace, love, hugs and Rock and Roll!"
Steve De Vincenzi - Lead Guitar - 
From the first time he heard "Whole lotta love" by Led Zeppelin Steve was hooked on the power of rock guitar.  He got his first guitar at age 14 and has been playing off and on ever since.  His music taste spans a wide range but classic rock is really where his heart lies and is the source of most of his inspiration and influence.  "I consider myself lucky to be able to get up on stage with other musicians and play some of the great rock classics I grew up listening to"  
Carol Tonelli - Vocals - Hand-held Rhythm
After transitioning from instrumental to choral music, singing  with groups both large and small, Carol joined, "Michael & Blue Suede" (now known as, "Michael & TLC" - she's the "C" in "TLC") as a back-up singer, working with vocal Impressionist, Michael Bartle, the experience changing her life for good and forever.  Since then,  she has fronted, "Rose City Band" performing Great American Songbook Standards and now, with EZ Street, she's found her true home; a garage band with 4 amazing guys including her favorite, EZ Street drummer & husband, Kevin.  From her very first rehearsal as a back-up singer, Carol has maintained that singing in a band is, "the most fun you can have with your clothes on".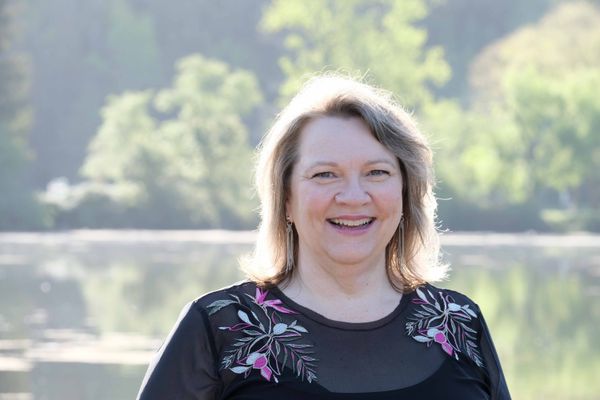 Kevin Tonelli - Drums
Kevin began drumming at an early age and has never looked back.  Performing for years as the drummer for his friend & Vocal Impressionist  Michael Bartle, Kevin gained his gigging chops performing multiple times a week all over the bay area for everyone from the Military to the Moose.  Kevin has played with many bands over the years and is happiest when he's playing, whether it's a high profile gig or the Sunday night Blues Jam in Petaluma.